National Bowel Screening Programme National campaign poster A3 Niuean - HE2635
Reviewed

April 2023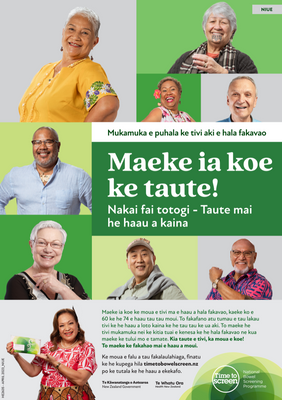 This resource relates to the following topics:
National bowel screening campaign posters, A3 size in Niuean. Posters can be used by anyone who wants to support and promote the bowel screening programme.
The full resource:
Mukamuka e puhala ke tivi aki e hala fakavao

Maeke ia koe ke taute!
Nakai fai totogi - Taute mai he haau a kaina

Maeke ia koe ke moua e tivi ma e haau a hala fakavao, kaeke ko e 60 ke he 74 e haau tau tau moui. To fakafano atu tumau e tau lakau tivi ke he haau a loto kaina ke he tau tau ke ua aki. To maeke he tivi mukamuka nei ke kitia tuai e kenesa ke he hala fakavao ne kua
maeke ke tului mo e tamate. Kia taute e tivi, ka moua e koe! To maeke ke fakahao mai e haau a moui.
Ke moua e falu a tau fakalaulahiaga, finatu ke he kupega hila
timetobowelscreen.nz
po ke tutala ke he haau a ekekafo.

Code: HE2635